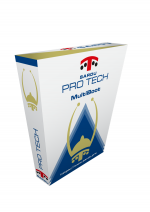 If you have a computer lab, work in IT company, manage issues with your own or your friends' PCs professionally, or you simply want development support for your project, SARDU MultiBoot Creator Pro Tech is the software for you.
SARDU MultiBoot Creator Pro Tech allows you to install up to 5 versions / editions of Windows of your choice from a simple USB pendrive, starting from the most recent version of Windows 10 to the oldest version of Windows 7, while taking advantage of the speeds of latest USB media.
Installing Windows from a USB stick in just a few minutes is the best way to optimise and speed up your work, avoiding the need to burn countless CDs/DVDs.
Leading software houses, such as Acronis, Paragon, etc., automate the creation of an ISO image based on Windows Live PE. SARDU MultiBoot Creator Pro Tech allows you to boot up to 4 of them (5 PE1 + 5 PE2) from the same removable drive; obviously, the user will need to prepare their own customised version of Windows PE or DARTs with the help of the various "builders" available.
If you are involved in forensic analysis, SARDU MultiBoot Creator can, on a single USB pendrive, create the tool used to boot both the newest PCs from UEFI and older PCs from BIOS Legacy.
From the easy to navigate MultiBoot menu, you can select the boot system which is best suited for that specific time and situation.
Using the same USB pendrive created with SARDU MultiBoot Creator Pro Tech, you can also manage all the most important Rescue CDs, as well as your collections of Utilities from which you can create, clone, restore partitions, recover data, thoroughly test existing hardware, or check the security of the local network.
SARDU MultiBoot Creator Pro Tech provides native support to over one hundred Linux Live distributions and, using the special management Extra, it is also possible to manage an infinite number of derivatives from the most widely recognised distributions.
SARDU MultiBoot Creator Pro Tech also manages the bootable ISO images of commercial software such as Acronis True Image and Acronis Disk Director, R-Drive Image, Spinrite, Paragon Backup Recovery and Paragon Rescue Kit.
Check out the list of managed ISOs.
*Windows PE1 based on Windows XP
** Windows PE => 2 Based on Windows 7 or more recent versions