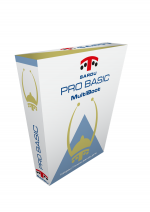 If you are a geek who loves technology, you have low maintenance needs and enjoy taking care of issues on your PC with no outside help, or you simply want development support for your project, SARDU MultiBoot Creator Pro Basic is the software for you.
SARDU MultiBoot Creator Pro Basic requires no special knowledge, however you will be able to create an infinite number of MultiBoot USB pendrives, bootable from Bios Legacy and/or UEFI, through which you manage ordinary and extraordinary PC maintenance... but that's not all: you will also be able to know and use an endless number Linux Live distributions safely and securely, including derivatives, all manageable through the special Extra options.
The software applications supported by SARDU, database which is continuously updated, are divided into four groups (Antivirus, Utility, Linux and Windows) and then further catalogued according to categories that make their purpose easy to identify and understand. With SARDU MultiBoot Creator Pro Basic as your guide as you search within these categories, you will be able to gain knowledge and understanding of new operating systems in the safest and most intuitive way possible. No installation is required, just a single USB pendrive with an intuitive MultiBoot menu where you can decide which system to boot from all those you have selected. All of this can be achieved in just a few minutes, with no advanced IT knowledge required.
With the same USB stick created with SARDU MultiBoot Creator, you can boot as many PCs as you want, giving new life to old computers using Linux Live distributions specifically designed for this purpose, browse anonymously and securely, check emails with suspicious content (if they contain Windows exe. files which are not compatible with Linux), transform your PC into a complete multimedia player or a simple system suitable for introducing preschoolers to computers.
If you have requirements of a more technical nature, you can install any 2 versions / editions of Windows (in addition to an XP installation) from a single USB pendrive, use Windows PE, and boot the new generation of PCs, notebooks, netbooks or Mac x86 via the relative UEFI.
Once you have completed your purchase, the license is then activated in real time.
The endless possibilities for customisation that you can achieve by creating your own units ensure a fantastic user experience.
SARDU MultiBoot Creator Pro is the most complete tool used by specialists in 236 nations around the world, and it can be yours, right now... for the price of a hot-dog.
Check out the list of managed ISOs.